The Department of Science and Technology-Philippine Institute of Volcanology and Seismology (DOST-PHIVOLCS) will commemorate its 70th anniversary on 20-24 June 2022 with the theme: "Upholding the Mandates, Breaking Science Frontiers for a Gender-Inclusive, Disaster-Resilient Philippines".

DOST-PHIVOLCS was first established as Commission on Volcanology (COMVOL) on 20 June 1952 after the destructive eruption of Hibok-Hibok Volcano in December 1951. COMVOL underwent several reorganizations until 30 January 1987, wherein by virtue of Executive Order no. 128, the National Science and Technology Authority (NSTA) became DOST, granting PHIVOLCS its present mandate to mitigate disasters that may arise from volcanic eruptions, earthquakes, tsunami, and other related geotectonic phenomena.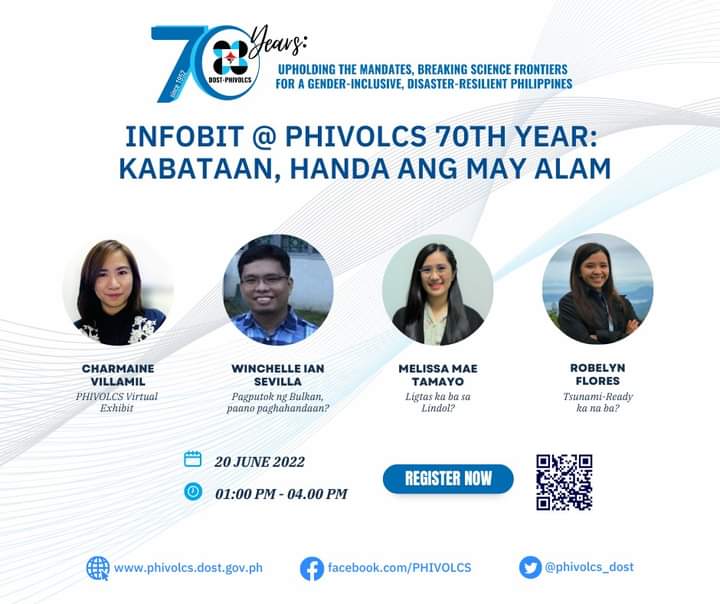 Among the weeklong activities include a webinar titled, "InfoBit@PHIVOLCS 70th year: Kabataan, Handa ang may Alam" on 20 June 2022 via Zoom, a mix of lectures and virtual exhibit tour for students Grades 6 to 12, and a symposium titled, "Advances in SEVENTY (Science and Technology in Years) and DRRM" on 21 June 2022 to be conducted in PHIVOLCS Auditorium and will be streamed via Zoom and YouTube.
The symposium will feature the Institute's past and present technologies and innovations in ensuring the safety of the Filipino communities in terms of disaster risk reduction. In addition, activities for the Institute's employees will be conducted to celebrate this milestone, such as Photo Sharing Contest, Time Capsule collection, and Team Building.
DOST-PHIVOLCS encourages the public to participate in the said activities by visiting the Institute's website and official social media accounts:
Facebook: facebook.com/PHIVOLCS
Twitter: @phivolcs_dost
YouTube: youtube.com/ DOSTPHIVOLCSOfficial