Let your little Home Foodie master chefs enjoy a hands-on Facebook cooking and baking session during this Enhanced Community Quarantine. This will be a good bonding experience with your kids. Resident Home Foodie chefs will do a live learning session of 5 scrumptious, kid-friendly recipes.
Home Foodie will be posting a collage of all participants who will join, so do not forget to take a selfie while cooking!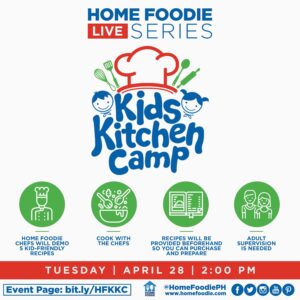 Click going in the Home Foodie FB event page to confirm your attendance and be updated on this online event on April 28, 2:00 PM (GMT+8): bit.ly/HFKKC!
Don't forget to read the guidelines, waiver, and recipes!