The Hybrid National Trade Fair 2022 is expected to herald the revival of the festive holiday shopping season as Filipinos prepare to celebrate their favorite time of the year. Happening on 16-20 November 2022, at the Megatrade Halls 1-3, SM Megamall in Mandaluyong City, the five-day event is organized by the Department of Trade and Industry – Bureau of Domestic Trade Promotion (DTI-BDTP) in partnership with the DTI Regional Operations Group, the Design Center of the Philippines, and the National Bamboo Industry Cluster.
The theme for this year's Hybrid National Trade Fair is 'Go Green! Go Local!', as it continues to advocate for sustainability and inclusivity by featuring green, sustainable, and eco-friendly products as well as artisanal and heritage crafts. Exhibitors from the country's 16 regions were carefully selected to showcase a rich selection of indigenous products and raw materials, handcrafted and handwoven products, furniture and home decor made from sustainable materials, unique and eco-friendly packaging materials, as well as health and wellness products.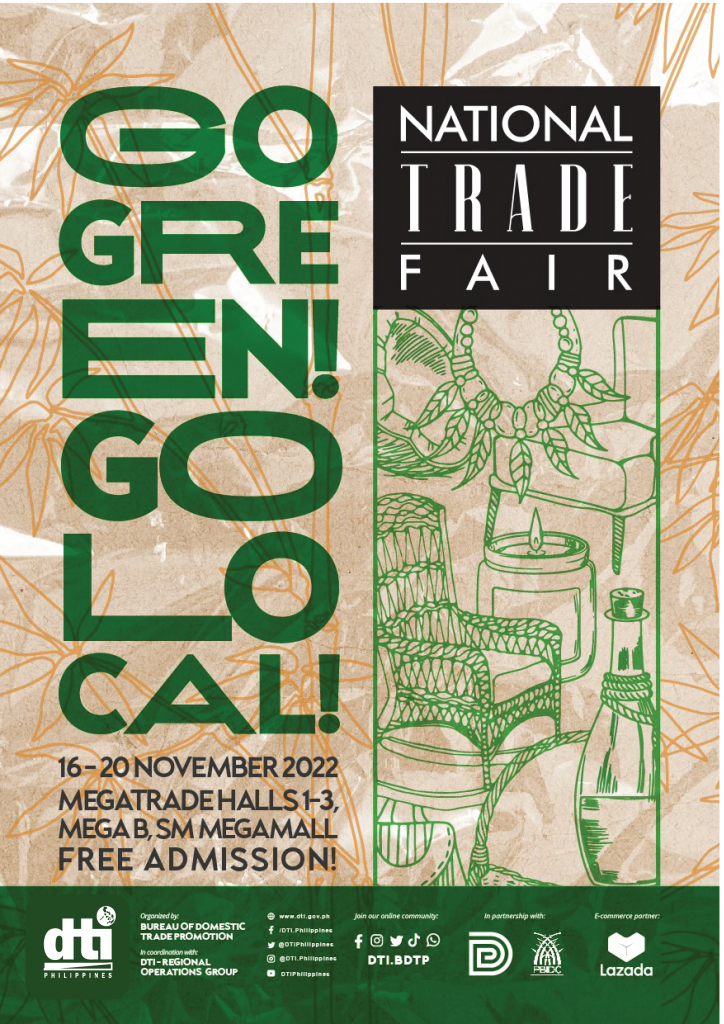 To meet expected consumer demand for the upcoming holiday season, there will also be a selection of fresh produce, processed food and beverages, and native delicacies, which are very popular gift options.
The Hybrid National Trade Fair 2022 will be the first physical edition in over two years, during which time the BDTP and other DTI agencies provided support for the digital transformation of MSMEs through virtual and online events. Having assisted MSMEs to establish their digital stores and leveraging on the wider reach of e-commerce platforms, there will be a parallel digital National Trade Fair Mall happening on Lazada at the same time as the physical event.
For fair-goers who wish to enjoy the face-to-face shopping experience, the Hybrid National Trade Fair 2022 will be providing hygiene stations with hand sanitizers at strategic locations. All exhibitors and their staff are fully-vaccinated and observe safety protocols.
To know more about the 2022 Hybrid National Trade Fair and other programs of the DTI-Bureau of Domestic Trade Promotion, you can visit their social media accounts on Facebook (DTI.BDTP), Instagram (dti.bdtp), and Twitter (@DTI_BDTP).