As we all know by now, millions of Filipinos, especially those in areas under the Enhanced Community Quarantine (ECQ), are changing their buying behaviors. With the country's response to stop the spread of the Coronavirus Disease 2019 (COVID-19), retail stores, malls, and even restaurants have been closed until further notice.
The ECQ encourages people to do physical distancing and stay in their homes unless they need to go out to buy food, groceries, and other essential items in grocery stores, markets, and pharmacies, among other establishments that are still allowed to be operational.
Eventually, however, buying online became an easier and more practical way to stay away from the crowd and contribute to stopping the spread of the virus. This solution has also led to a growth in the e-Commerce industry.
Since online shopping is helping both the people and the economy, J&T Express, the number one e-Commerce delivery company in Southeast Asia, believes that delivery couriers are the "Unsung Heroes on Two Wheels" during this pandemic because it would not be possible for food, groceries, and other essentials to be delivered to people without them.
Delivery couriers will always ensure that they keep their client's trust and safety when it comes to their services. The Department of Information and Communications Technology obliged delivery couriers to strictly follow ECQ guidelines such as social distancing, and ensure that they are equipped with facemasks, gloves, alcohol, and other protective and precautionary equipment.
However, despite all the safety actions that the delivery couriers are doing to keep you safe, you can never really know where your package has been before getting into the hands of your delivery courier. Thus, it is best that you also do your part in fighting the virus.
According to a study by MedRxiv, COVID-19 lives for 24 hours on cardboard and 72 hours on plastic and stainless steel, thus giving you the option of letting the virus die out first before taking out your package, however that would only be good news for non-perishable goods.
Whether you choose to wait for the virus to die or not, you should always wash any surfaces that the outer packaging touched then throw away the packaging and wash your hands. Sanitize your package immediately, or if it's perishable goods, immediately put it in a Tupperware and put it in the refrigerator.
Of course, delivery couriers are still vulnerable to the virus, despite the safety precautions, so you must keep minimal contact with the courier, as much as possible. Always practice social distancing, even in situations such as receiving a package; think of it as maintaining the safety of the courier, as well.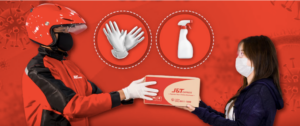 Some delivery couriers offer the option of having contactless delivery, where you don't have to see the courier face-to-face and they leave your package at the doorstep or somewhere you choose, then the payment would be settled online. If not you can simply request the courier to have such an option and come to an agreement.
J&T Express offers their services with fast deliveries and affordable rates! They also ensure the safety of your products with real-time tracking for you and your customers, as well as provide insurances and other safety precautions for it!
J&T Express is dedicated to helping local online businesses grow by providing quality delivery services. Today, they have over 400 branches across the Philippines.
To know more about J&T Express and its services, visit their official FB Page at https://www.facebook.com/jntexpressphilippines.