With the current challenges faced by local businesses, J&T Express launched a new campaign, which aims to put the spotlight on local online sellers affected by the current global health crisis.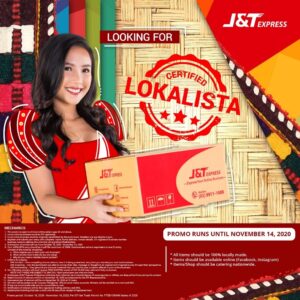 Since the start of lockdowns and community quarantines, the Department of Trade and Industry (DTI) has seen a surge in the number of registered online businesses in the country. From 1,700 in March, online business soared to over 75,000 in September as people turned to use the internet for income.
As local entrepreneurs move to online platforms, some still struggle on the logistics side of their businesses. The barrier for most of these local online sellers is on how they can deliver their goods fast, easily, safely, and hassle-free, due to limited mobility.
With this reality, J&T Express' launched its online campaign, "#CertifiedLokalista: Gawang Pinoy, Panalo 'Yan," which seeks to support locally made products, promote small businesses, as well as empower local entrepreneurs to succeed online through a testimonial type contest.
The contest is open to all local online seller ages 20 years old and above. The online business must be established originally by the participant. Resellers, on the other hand, are not eligible to join.
To join, the qualified participants must first register through this link bit.ly/jntlfcertifiedlokalista. They will be asked to send their Lokalista story, discussing their Pinoy-made products offered.
"We have seen how Filipinos, especially during this pandemic, explore their interests and push the limits of their creativity and resourcefulness by turning their passion into entrepreneurial endeavors. Through our #CertifiedLokalista, we want entrepreneurs to realize a more practical and efficient operation, as well as to inspire local sellers to grow and express their online business," said Zoe Chi, the Vice President of J&T Express Philippines.
Aside from featuring the winning small businesses through the videos shared on social media, the participants will also get a chance to win a total of PhP20,000 worth of free delivery services that they can use to deliver their products to their customers across the country.
They will be offered to join the VIP platform, the online sellers will enjoy exclusive perks, such as discounts in all the services provided by J&T Express, access to dashboard, free pick up services and many more.
J&T Express has always been dedicated to helping local online businesses grow by serving as a delivery partner that provides quality services at affordable rates. It also vows to ensure the safety of products through its real-time tracking, as well as to provide insurance and other safety precautions, especially amid the current COVID-19 pandemic. To date, it has over 500 branches across the Philippines.