I have dined yesterday at Gentea Miltea x Burger Restaurant which is located at Molino, Bacoor, Cavite. I have purchased a 22 oz. Hany flavored Milktea in which I drank it there and I also but some fries which I took home. They are strictly implementing the safety protocols such as that the staffs are wearing facemasks and only those who wear facemask could enter the restaurant. They also have alcohol there as you enter and also at the counter area. They practice physical distancing and there are also barriers in place. The staffs were also polite and courteous.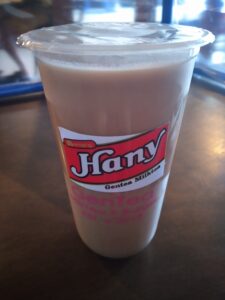 Here is my review about their Hany flavored Milk Tea:
The Good
I got excited when I had seen that they have a Hany flavored Milk Tea in their menu as the Hany chocnut is one of my favorites when I was still a child. As I got my order, I have seen that the milktea has really bits of Hany on it. The drink is not that sweet.
The Bad
I am really looking forward to have a nice chocnut flavored drink but what I bought is just a disappointing one. I tasted only a hint of Hany on my drink and I felt that what I drank is a chocolate-colored milk tea with a sprinkle of Hany tidbits. The tidbits were also irritating to the throat. I also think that it also overpriced as its price is 125 pesos against the same size for a nutella milk tea which is only priced at 100 pesos.
The Recommendation
Base on my experience, it would be good for them that they would either imrpove the Hany flavored Milk Tea or just remove it from their menu. It would be also better if they would just create a Hany flavored shake or a Hany flavored Frappe. I would also recommend that they lower the price of this drink.