SAP SE (NYSE: SAP) marks its milestone in the Philippines as it celebrates its 25th anniversary. For the past 25 years, SAP has helped more than 1,800 companies in the Philippines run better.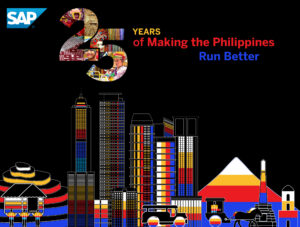 With its global expertise, as well as knowledge of the local market, SAP works across 25 industries. In the Philippines, about 72 percent of the top 50 Filipino corporations run SAP.
SAP first started its operations in the country in 1995. From just 10 employees, SAP Philippines now has over 2,000 employees across four offices in the country. In 2020, the Top Employers Institute recognized SAP as the 2020 Top Employer for the third year in a row for empowering best people practices and exceptional work environment.
As part of SAP's purpose to help the world run better and improve people's lives, SAP in the Philippines has dedicated programs to helping hone better skills for the youth, the next leaders in the country's booming IT industry. 15 Philippine universities are members of SAP's University Alliance, a global program to integrate the latest SAP technologies into educational curricula. Through sponsorship of the ASEAN Data Science Explorers (ASEAN DSE), more than 1,800 students and 38 institutes of higher learning were trained with SAP Analytics Cloud.
"SAP's enduring purpose is to help the world run better and improve people's lives. Over the last 25 years, our Filipino colleagues have grown our business and operational footprint significantly in the Philippines. As we look into the next 25 years, innovation and ecosystem is going to help accelerate our efforts to achieve a Digital Philippines and drive our next wave of growth," said Verena Siow, President & Managing Director of SAP South East Asia.
"As we celebrate our 25th year in the Philippines, we are all proud that many companies and institutions run better with SAP. We remain committed to our purpose of helping Filipino companies of all sizes to become intelligent enterprises and improve the lives of Filipinos through technology," Edler Panlilio, Managing Director of SAP Philippines said.
Visit the SAP News Center. Follow SAP on Twitter at @SAPNews.