As basketball stars converge in Manila this August for the FIBA Worid Cup, Sun Life is adding to the hype with an exciting activity that will bring together local celebrities while also prormoting the sport in communities.
Dubbed the Sun Life 3×3 Charity Challenge, the event will take place from August 18 to 20 at SM Megamall with close to 400 players expected to participate, led by celebrities and basketball pros including Ael Banal, Brent Javier, Jollo Go, Andre Felix, Gab Banal, Thor Gomez, Brent Paraiso, John Custodio, Axel Torres, Pat Sugul, Kirst Viray, Ralph Molina Martin Reyes, Miguel Aytona, Hendrix Jim, and Martin Javier. The event will also be open to the public who wish to showcase their skills on the court and experience the excitement of participating in the basketball fever across the country.
Moreover, for every participant who will play, Sun Life will donate P4,000 to revitalize basketball courts and launch fitness programs in different communities, so that more Flipinos may enjoy the sport, stay active, and live healthier lives. The same amount will be donated for every like, share, and post on social media with the hashtags #MovementMatters and #SunlifePartnerforLife.
A similar activity is being launched in Jakarta, Indonesia, with a maximum donation of CAD 1 million in total.
The event also sets the tone for the anticipated participation of Canada Basketball in the FIBA World Cup happening in Manila beginning August 25, with NBA stars Shai Gilgeous-Alexander and Kelly Olynyk leading the pack. Sun Life is the Official Health & Welliness partner of Canada Basketball.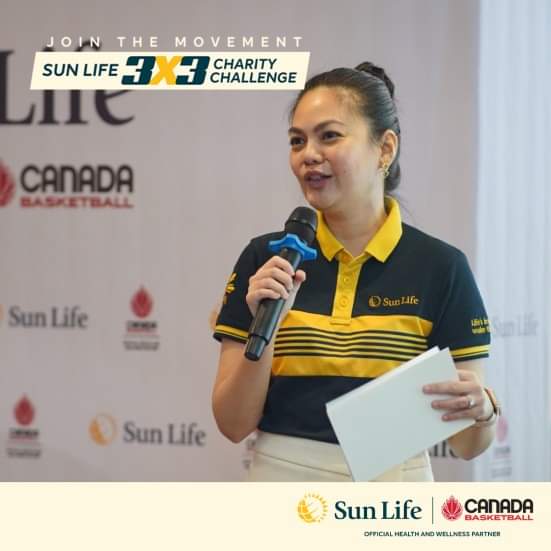 "Sun Life is always eager to promote health and wellness in fun and engaging ways so more Filipinos will be encouraged to make It a part of their lifestyle. Movement matters, and we hope that this activity will bring home this important message," said Sun Life Chief Client Experience and Marketing Officer Carla Gonzalez-Chong. "At the same time, we wish to create a lasting legacy in the communities we work in so they too will be on the road to healthier lives."