Since the start of the COVID-19 pandemic, most industries struggled to survive the outbreak, causing numerous businesses to close permanently. Among the significant factors contributing to their struggles was the inability to transport, store, and reach valuable goods, equipment, and materials to complete projects and continue business operations.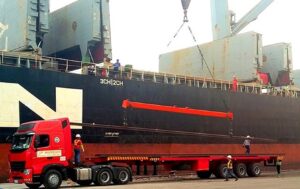 Fortunately, despite the quarantines and lockdowns in some areas in the country, logistics providers remained operational, helping businesses adapt to the disruptions in transporting and storing goods essential to many companies' viability.
JP Marzan Project Ventures Inc., one of the leading logistics providers in the country, believes that logistics plays a crucial role in business success and resiliency in every industry, especially during a crisis. The company expounds on other reasons why different industries will significantly
benefit from logistics providers.
Construction
According to a research study [https://www.tandfonline.com/doi/full/10.1080/09537287.2020.1821925], a streamlined logistics process reduces the risk of delayed
deliveries with subsequent delays to the whole project and increased risks of cost overruns in construction projects. With logistics providers like JP Marzan that provides project consulting and
civil engineering services, the country's construction industry's performance can improve.
With these services, builders will find it easier to start and complete projects when trusted logistics providers are also transporting and storing heavy equipment, sourcing raw materials, assisting in order management, and tracking cargo movements.
Manufacturing
Manufacturing can also benefit from logistics providers, especially if these manufacturing companies require heavy equipment to manufacture or store their products crucial to people's everyday lives. Logistics providers can provide manufacturers with warehousing to keep track of the capacity and costs.
Technology
Electronics, computers, and office equipment require their own special attention. A logistics provider combines the ability to understand warehousing, re-packing, inbound, and outbound logistics to ensure that the entire life cycle of the product is overseen.
Logistics providers impact multiple industries, since it plays a crucial role that will bring significant improvement and success that will not happen without its expertise.
"We believe that, other than the construction and manufacturing sectors, other industries will also see improvements in their operations when the logistics providers they partner with is one that they can trust and would treat them as partners for growth," said Jay Marzan, chairman of JP Marzan Project Ventures, Inc. "As we move towards recovering from the economic recession the
pandemic brought upon us, we aim to be an important engine for growth that both the private sector and government can rely on given our expertise and professionalism."
JP Marzan Project Ventures Inc., one of the leading logistics providers in the country, shows itself as the perfect partner to meet the globalized market's challenges and help the country's economy grow.
As the company plans new ways to provide mobility for high-value, heavy, critical cargo amid the pandemic, they believe that partnerships will help build the nation into a brighter future. And, with their services to tirelessly provide logistics, they are prepared with the best equipment to help the country.
To know more about JP Marzan Ventures, Inc., visit its website at www.jpmarzan.com.