The highly acclaimed mobile game, Goddess of Victory: NIKKE, is set to mark its first anniversary in an unforgettable way by hosting a cosplay-themed cafe event in partnership with the iconic amusement park Star City in Pasay, Philippines. This event promises a fantastic experience for both fans and newcomers to the world of NIKKE.
This cosplay event will immerse attendees in the captivating world of NIKKE right from the moment they step inside. Upon entry, guests will be warmly welcomed by a talented cast of characters from the game, bringing the NIKKE universe to life.
Cosplay Extravaganza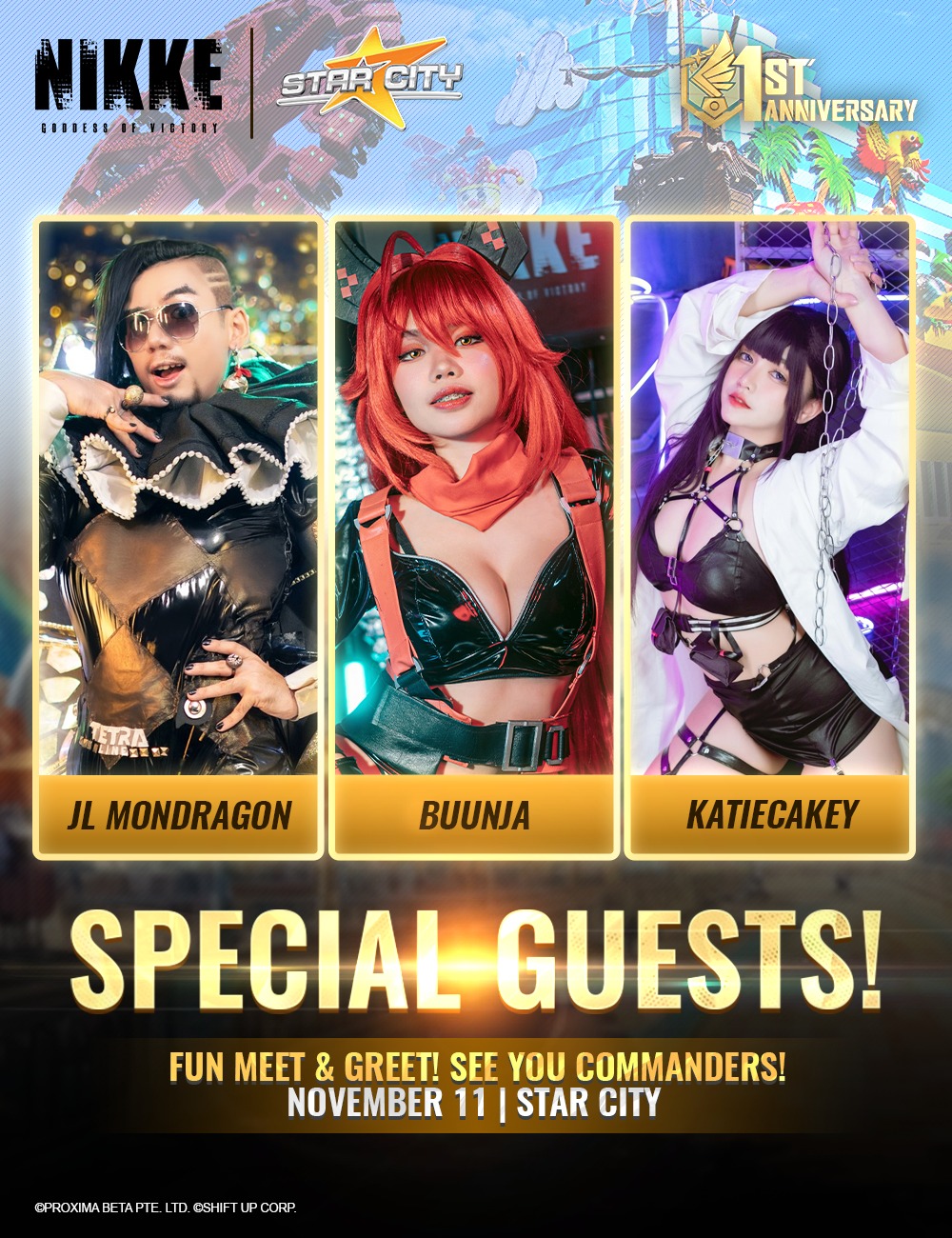 The event offers the perfect opportunity for NIKKE enthusiasts to showcase their creative prowess by dressing up as their favorite characters from the game. Expect to see an array of stunning NIKKE-themed costumes that pay tribute to the game's rich lore and captivating characters. To ensure a seamless experience for all attendees and safety during rides and activities, no props will be allowed inside.
Exciting Games and Activities
Attendees can look forward to thrilling games and activities that promise to keep the excitement levels high throughout the event. Prizes and rewards await those who participate and showcase their skills.
Meet Fellow NIKKE Fans
The cosplay event will serve as a gathering place for NIKKE fans and players to connect, share their passion for the game, and celebrate its first anniversary together. It's the perfect opportunity to engage in conversations and exchange gaming tips. Additionally, meet special guests Buunja , JL Mondragon and Katiecakey!
This remarkable event is a collaborative effort between NIKKE Philippines and Star City, making it a celebration of not only the game but also the vibrant Filipino gaming and cosplay community.
"We are thrilled to commemorate our first anniversary with an event that celebrates the vibrant and passionate NIKKE community," shared Benj Dalmacio, Senior Business Development Manager of Tencent Philippines. We invite all Commanders, both new and seasoned, to join us for a day of fun, creativity, and camaraderie. It's an opportunity to celebrate the journey of Goddess of Victory: NIKKE together and create lasting memories."
Don't miss out on the chance to be a part of this incredible celebration of Goddess of Victory: NIKKE's first anniversary. For more information and updates on the event, please visit our official Philippine Facebook group and Discord server.
To learn more about GODDESS OF VICTORY: NIKKE, go to: http://nikke-en.com and download the game on the iOS App Store and Google Play.