Celebrating its 40th anniversary, the Pilipinas Shell Foundation, Inc. (PSFI) rises to its commitment to building a sustainable impact by empowering communities towards holistic progress and spearheading purposeful projects that address social and economic needs across the country.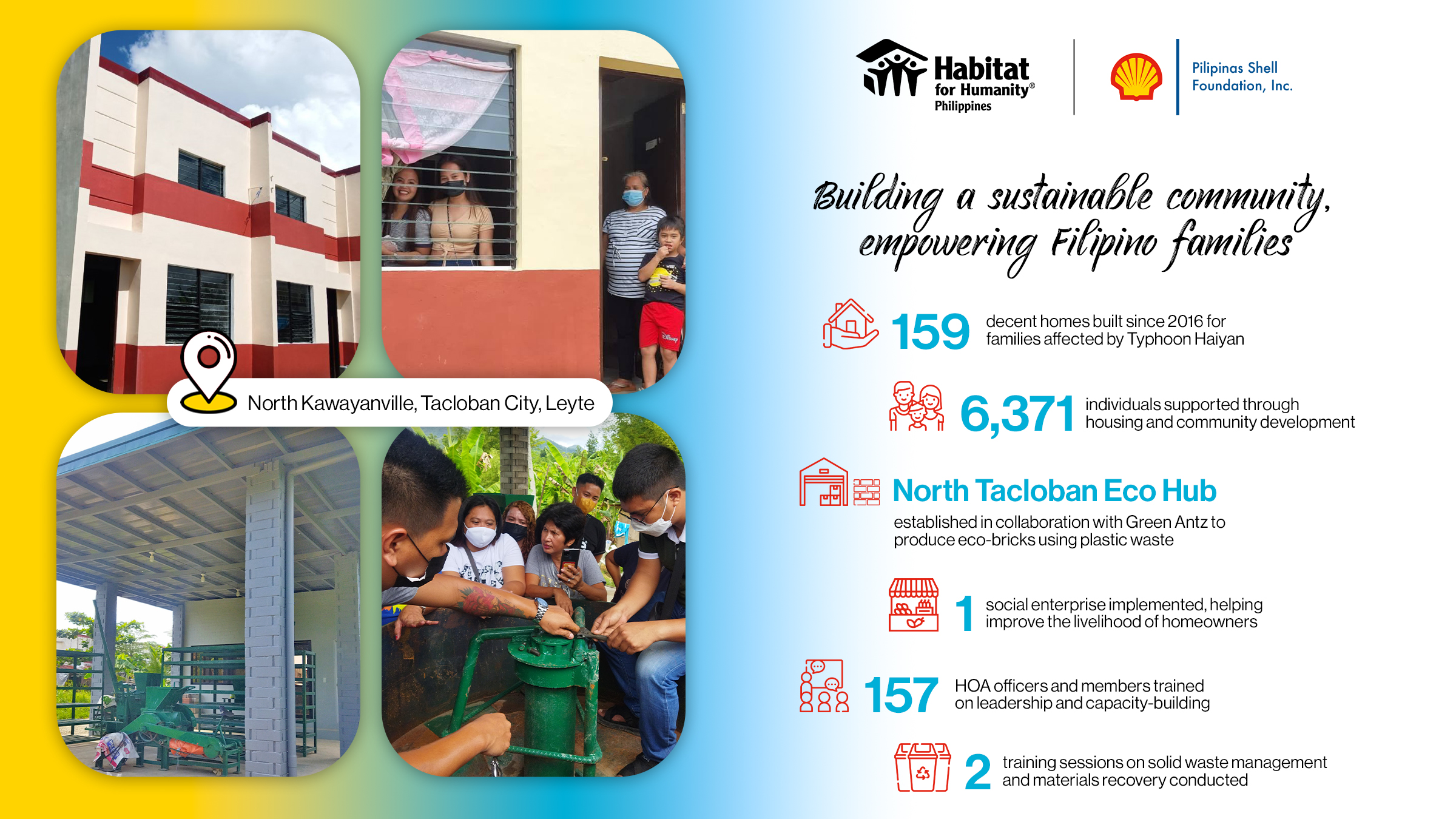 During the Moving Further grand celebration, PSFI recognized the significant contribution of its partners, including Habitat for Humanity Philippines, in delivering sustainable and lasting impact for the past four decades.
Partnering with Habitat Philippines in providing decent homes and developing resilient, sustainable communities for underprivileged families, PSFI has supported housing, community development, and disaster response programs since 2011. Through this partnership, Habitat Philippines has built 159 homes, supported over 6,300 individuals, empowered 157 homeowners through leadership training and capacity development, and implemented a social enterprise that helps diversify the source of livelihood in the North Kawayanville community, Barangay 106, Tacloban City.
"We recognize Habitat for Humanity Philippines as one of PSFI's most dedicated partners in delivering positive change. Since starting our collaboration 8 years ago, they have not only continued supporting our programs, but have extended their service in many other ways as well. We hope to continue this strong partnership in contributing to the Sustainable Development Goals, particularly those of SDG 8 (Decent Work and Economic Growth) and 13 (Climate Action)", says Sebastian C. Quiniones, Jr., Executive Director of PSFI.
As part of their anniversary celebration themed "Moving Further", PSFI held a two-day community celebration at the Tacloban North Villages Family Park, where the North Kawayanville community showcased the impact of the partnership by exhibiting the products they have manufactured through the eco-hub facility funded by PSFI. They also collected plastic waste, which serves as the main raw material in producing eco-bricks. Guests visited the facility and learned how plastic wastes are processed to create eco-bricks, which then alternatively become a source of livelihood for the homeowners. On top of these, PSFI also held a graduation ceremony for community residents who have completed the Sanayan sa Kakayahang Industriyal or SKIL program, where they underwent courses on Computer System Servicing and Electronic Product Assembly and Servicing.
"Partnerships like what we have with Pilipinas Shell Foundation fuel our work to build resilient, inclusive, sustainable, and empowered communities. Their generous support for our programs over the years helps us create a cohesive environment that fosters better well-being, viable growth, and development in the community. We congratulate Pilipinas Shell for 40 years of making an extraordinary impact on thousands of lives, especially to our homeowners in Kawayanville. We hope to continue this partnership and build more thriving communities together," said Habitat Philippines Chief Executive Officer Mardi Mapa-Suplido.
Helping families rise through housing
Improving the quality of life by providing decent, affordable housing as a foundation, PSFI turned over 13 houses last February to informal settler families, who used to live in 'no-build' zones and were affected by Typhoon Haiyan (local name: Yolanda) in 2013. The families permanently relocated to a 22.5-sqm loftable core house, which they have started to improve by adding a kitchen extension, a second floor or loft, and a front yard.
For 47 year-old Irene Rondina, one of the new homeowners, the house symbolizes their recovery and a new hope after losing everything to Typhoon Haiyan almost nine years ago.
"I was so happy to learn that my family and I will finally have a home. The house we now own through this program is strong, beautiful, cozy, and well-built. This house will give us peace of mind and help us financially. We can now allocate more budget for our children's education because we're not paying a high-priced rent anymore. My hope is that through this home, we can finally start saving some money," said Irene, adding, "I never lost hope. I prayed to God every day for His blessings. This house is a blessing that I am so grateful for."
Helping address the shelter needs and supporting the local government's relocation program, the housing project is part of Habitat Philippines' Rebuild Philippines Program, a rehabilitation project for families who lost their homes to Typhoon Haiyan. In 2016, three years after the Typhoon struck, PSFI supported the construction of 146 homes in the same community to help affected families rebuild their lives from the disaster. PSFI employees also volunteered to help build the row house units, together with the homeowners.
In 2011, PSFI also supported the distribution of shelter repair kits for disaster-affected families.
Uplifting lives through community development
More than just building homes, the PSFI-Habitat Philippines partnership funded community sustainability projects and skills development training sessions for the Kawayanville HOA leaders and members. One of the milestones of this partnership is the creation of the North Tacloban Eco Hub, a community-based social enterprise, which aims to improve the economic resilience of homeowners by providing them an alternate source of income.
Through a collaboration with Green Antz, 21 homeowners underwent a weeklong in-depth training on the operations and management of the eco-hub facility, which turns plastic waste into eco-bricks that can be sold to the construction market. This initiative not only helps reduce waste in the community but also improves the employment and livelihood of the homeowners.
PSFI also supported the training on solid waste management, material recovery facility, as well as community association, development, and programming, to further help the community flourish. Through these training programs, HOA President Arthur Golong and his co-officers can now better lead and manage their community, identify their needs, and unlock resources and opportunities to address them with the help of the local government.
"The training programs conducted through the partnership with PSFI and Habitat Philippines empowered me to share our eco-hub project with other HOAs and the local government. We have already conducted a series of meetings with the LGU to discuss our solid waste issues and how the community will be able to decrease garbage going to the landfill. The capacity development training also enabled me, as the HOA President, to convey our community challenges and issues to the local government and in HOA gatherings facilitated by the LGU," said Golong.
The Kawayanville HOA has presented the Eco-hub project to the Department of Human Settlements and Urban Development Region VIII and secured its commitment to incentivize individuals, who will provide clean and dry plastic for the eco-bricks production. Habitat for Humanity's Terwilliger Center for Innovation in Shelter has also expressed its support in market development. Habitat Philippines is also planning to use the eco-bricks produced in the North Tacloban Eco Hub in the construction of a health center in Pastrana, Leyte.
PSFI also supports more communities in Batangas, Camarines Sur, Palawan, Leyte, and Cagayan de Oro, with projects focused on improving livelihoods, education, environmental sustainability, health and safety, energy, nutrition, and food security.