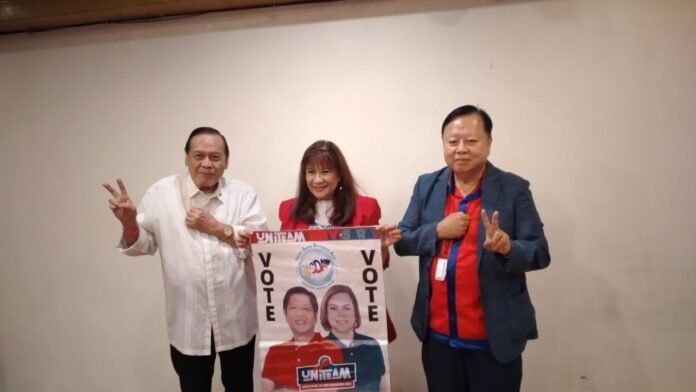 The Filipino-Chinese Volunteer Group for BBM and Sara Uniteam has officially announced their support to the presidential candidacy of Ferdinand "Bongbong" Marcos Jr. (BBM) and to the vice-presidential candidacy of Davao City Mayor Sara "Inday Sara" Duterte-Carpio. This was announced in a press conference held yesterday, May 2, 2022, at Cafe Felisa of Aloha Hotel.

"We would like to officially endorse our support to BBM and Sara Uniteam. We believe in his platform", said Mr Magiting in front of the media.
They said that they wanted to see the continuation of the progress made during the Marcos era where peace and order reigned.
In order to further solidify their support, the Filipino Chinese businessmen expressed more jobs and foreign investments from their group once BBM and Sara are in the office since they believed that their leadership would be conducive to the business environment of the country.
The group is a long time supporter of the Marcos family and they were very impressed by the way former President Ferdinand Marcos Sr. has run the country. They believed that the son will continue the Marcos legacy.
"A great leader should embody maturity, consistency, decisiveness, courage, and strength. And he [BBM] has that", said the emcee and fellow supporter of the press conference. She also saw that BBM is a true gentleman as she recalled when she met BBM and shook his hands during an event.
The group also expressed their experience that the Marcos family is close and promotes positive Filipino family values.
You can follow their Facebook page to learn more about their activities:
https://www.fb.com/filipinochinesevolunteerforbbmpresident