With a staggering 6.7 million housing need in the country, Habitat for Humanity Philippines stresses the urgency to help address the housing crisis before it balloons further by encouraging the public to be part of the solution and underlining their contribution to help build decent homes and sustainable communities for every Juan.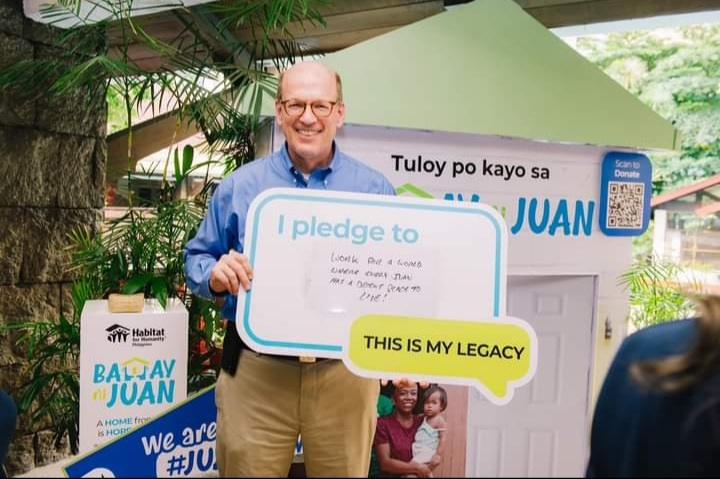 Habitat for Humanity International Chief Executive Officer Jonathan Reckford joins youth leaders and advocates from top universities in the Philippines and community youth groups in calling everyone to help fill the housing gap during the launch of Habitat Philippines' "Bahay ni Juan" individual giving program at the Makati Sports Club last July 9, 2022.
Leading the campaign launch was Habitat Philippines CEO Mardi Mapa-Suplido saying, "Habitat Philippines has always believed in the power of every individual to help fulfill our mission of building homes, communities, and hope. Each one of us, even in our small ways, can create ripples of impact that can change the course of a family's life through shelter. With 'Bahay ni Juan,' we aim to be the channel for everyone to help make the dream of low-income Filipino families come true. One home is equivalent to one hope. And for every hope we give a family, we are giving them endless opportunities to build a better life for their children and their children's children. This will be our legacy – transforming lives together through decent shelter."
The "Bahay ni Juan" campaign aims to inspire people to help fund Habitat Philippines' programs for housing, community development, disaster risk reduction and response, hygiene promotion, and volunteer mobilization that all contribute to helping low-income Filipino families access safe, decent, affordable, and disaster-resilient homes. The campaign's tagline, "A home from you is hope for them," reiterates how decent shelter can transform the lives of Filipino families by providing them a solid foundation to have better opportunities, breaking the cycle of poverty.
For just Php17 a day, a giver can help provide one cement hollow block, a sturdy raw material to build the foundation of a house. Collectively, not only can givers help build homes, but also develop and empower communities towards sustainability and progress.
Housing advocate and former Habitat for Humanity Blue Chapter President from the Ateneo de Manila University, Arissa Kitchy Dy, led the youth in expressing their support for the campaign.
"To learn and understand more about the housing issue and its multi-faceted nature. It's through this that I grew passionate about it, and maybe the same will happen for others. Building homes isn't just a matter of accumulating volunteer hours nor creating jobs in construction. Once you understand how decent shelter is connected to other critical issues in our country, housing now becomes pivotal to our overall development," said Dy.
Joining Reckford and Dy in the call for support were young housing advocates, businessmen, and entrepreneurs Jardin Wong, CEO of Mosaic Realty and Development Corporation, and Brian Poe-Llamanzares, CEO of Time Masters Watches.
Having a magnified view of how providing decent housing can help people become more productive and contribute to nation-building, Wong said, "it is integral to harness every bit of effort if we want to achieve maximum efficiency and address the huge housing backlog. There are myriad ways to make a difference. Donating and volunteering to esteemed organizations like Habitat is a structured and worry-free way of doing this. If you have the resources, you can go above and beyond and establish your own fundraising activities. Another way is to support the development of innovative and sustainable building materials that can make building homes more affordable and eco-friendly."
As a public servant and youth advocate, Poe-Llamanzares aims to bring together key opinion leaders and inspire more people to take part in promoting the advocacy for housing. He said, "Running relief efforts and rebuilding has always been a part of my work as a public servant and a fellow Filipino. They say home is where the heart is. Building a decent home can make a world of difference for a family. It's the first step in living a decent life. Hopefully, young politicians in congress can prioritize the passage of the disaster risk reduction and management act and push for more funding for quality national housing programs."
Prior to launching the campaign, Habitat young leaders gathered for a Youth Assembly to share their best practices, learnings, and commitments to achieving sustainable development goals through actively participating in community-building and organizing social impact initiatives.
As one of the Asia-Pacific countries with strong youth engagement, Habitat Philippines has been mobilizing young advocates and volunteers for the past 34 years to be part of its mission of building homes, communities, and hope. The organization has established 18 youth organizations across the country, including seven campus chapters and 11 community youth groups. Some of the most notable campaigns and projects involving the Habitat youth include Habitat Young Leaders Build, Leadership Academy, and the Philippines Youth Congress.
You can support the Bahay ni Juan Campaign by donating at habitat.org.ph/bahaynijuan/.