Hotel Sogo gives a preview to its version of 'new normal' operations, in a playbook video released by the company. The video is its way of assuring its guests that their safety and security is Hotel Sogo's top priority.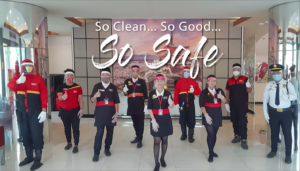 The video highlights the initiatives it is currently doing to make sure to provide guests with So Clean, So Good, So Safe experience, while staying at the hotel. Hotel Sogo made sure to lessen guest's direct contact.
All of Hotel Sogo's efforts are in its 'new normal' playbook that shows the steps it has undertaken to protect its partners, guests and employees. The video playbook was shared to different government agencies like the Department of Health (DOH), Overseas Workers Welfare Administration (OWWA), and the Department of Tourism (DOT), so that it could serve as a good example to other establishments in planning for their preparations reopening.
To find out more, check out Hotel Sogo's 'new normal' playbook video.
Hotel Sogo New Normal Playbook

Hotel Sogo New Normal Playbook a compilation of new designs, facilities, policies, procedures, organizational setups and process flows to ensure the safety and well-being of the public, in preparation for the lifting of the ECQ.#SoCleanSoGoodSoSafe#DahilMahalKitaGustoKoSafeKa

Posted by Hotel Sogo on Wednesday, May 13, 2020