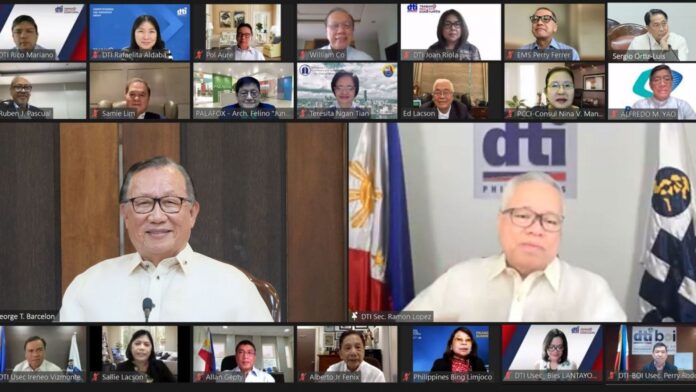 The Philippine Chamber of Commerce and Industry (PCCI), the largest business organization in the country, supports the Department of Trade and Industry (DTI) in pushing for the amendment of RA 9184 otherwise known as the Government Procurement Reform Act in a bid to help Philippine locally-made products especially in time of a global health and economic crisis.
In a virtual courtesy call, Trade Secretary Ramon Lopez shared with the leaders of PCCI that the DTI has been pushing in Congress for the amendment of RA 9184 to incorporate certain provisions that would allow bidding solely for Philippine manufactured products that are certified by the government.
"In the budget discussions in Congress, we have been pushing for the Buy Local, Go Local program to be incorporated in the government procurement policy, meaning we want to have biddings only for all Filipino-made products that are certified by the government. Everybody in Congress agrees to it even the opposition senators but some quarters were afraid as it might be abused," Lopez said, adding that the present procurement law has no distinction over local or imported goods.
But Lopez clarified that the proposal will not serve as a general policy but rather a special program to help the MSMEs recover from the pandemic and create opportunities for their recovery and growth. He said that the DTI is looking at implementing this program initially to manufacture healthcare products.
The Buy Local, Go Local is DTI's campaign to promote MSMEs and encourage Filipinos to patronize locally made fresh produce and manufactured goods as well as stimulate and boost domestic travel by utilizing the facilities and services of Philippine-owned establishments.
George T. Barcelon, PCCI president, said that the PCCI, whose membership is composed majority of small and medium businesses, fully supports the initiative of DTI as it will bring hope and drive to MSMEs to start again and eventually contribute to economic growth.
"The Buy Local, Go Local is certainly a good platform that PCCI and DTI can work with. We hope that we can convince our legislatures to pass this measure or at least come up with a policy that will provide support and boost the recovery of our MSMEs. This is one way of helping them recover and thrive again," Barcelon said.
Perry Ferrer, PCCI vice president, said that PCCI is closely working with all sectors to strengthen the manufacturing industry especially electronics, automotive, and food. "We are actively developing local sources and through PCCI, we are bringing MSMEs into the picture," Ferrer said.
Meanwhile, Barcelon also proposed to DTI to develop skills trainings that are aligned with the Investments Promotions Plan (IPP) since TESDA is already under the agency. "We are talking of high-skilled jobs that we need to create because a lot of times foreign companies would come and they would find skills mismatch. If TESDA is properly nurtured and focusing in tandem with IPP that would really attract investment that would go up the value chain," he said.