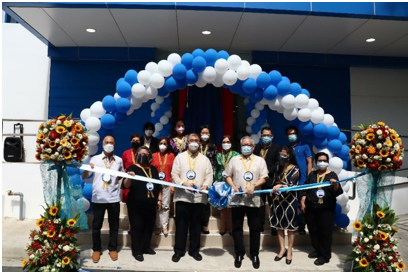 DOST Secretary Fortunato T. Dela Pena, DOST-ITDI Director Annabelle V. Briones; Undersecretary for Research and Development, Dr. Rowena Cristina L. Guevarra with special guest and keynote speaker DTI Secretary Hon. Ramon M. Lopez , opened yesterday November 9, 2021 the Philippines' first Metrology in Chemistry Laboratory (MiC Laboratory).
Located at the DOST Complex, Bicutan, Taguig City , ITDI created the MiC Lab oratory to help local testing laboratories comply with traceable chemical measurements by producing reference materials (RMs) and conducting accuracy-based Proficiency Testing (PT) schemes.
After a simple Opening Ceremony and facility tour, a virtual presser gathered some 30 representatives of blog/vlog sites, cyber media, national newspapers, and radio-TV networks where guests and other DOST officials served as panel. These included: Secretary Lopez; Secretary De La Peña; Undersecretary Guevara; Dr. Briones; ITDI Deputy Directors for Administrative and Technical Services, and Research and Development, Dr. Zorayda V. Ang and Dr. Christine Marie C. Montesa, respectively; NMD Chief, Engr. Manuel M. Ruiz; and MiC Laboratory Project Leader, Dr. Benilda S. Ebarvia.
Other guests were the Assistant Secretaries for Finance and Strategic Planning, Ms. Maridon O. Sahagun; International Cooperation, Dr. Leah J. Buendia; and Human Resources Management, Management Services, and Special Concerns, Dr. Diana L. Ignacio.
Undersecretary for Scientific and Technical Services, Dr. Renato U. Solidum, Jr. closed the programme.