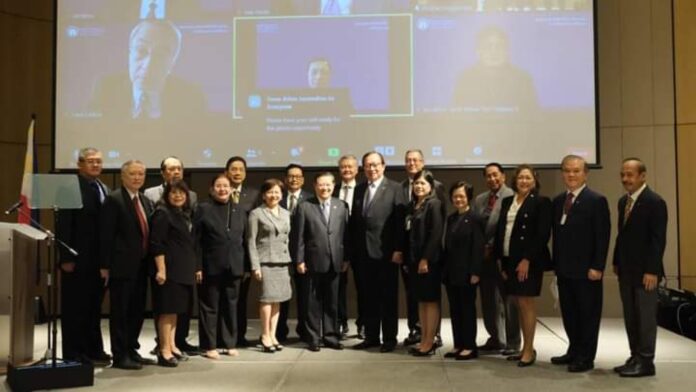 The next administration will inherit many hard-won reforms that will boost economic resurgence, according to Department of Finance (DOF) Secretary Carlos G. Dominguez at the Oath-taking of the PCCI Board of Directors and Officers held yesterday at the Taft Room, Conrad Hotel, Pasay City.
"We promise you that President Duterte's economic team will persevere until the last hour of this administration. We are confident that we will leave the public office with the basic groundwork for continued and rapid growth in place," Dominguez said.
He cited some of the administration accomplishments, which include the TRAIN Law (Tax Reform for Acceleration and Inclusion), National ID System, Rice Tariffication Law, Ease of Doing Business, Build. Build. Build and a series of sin tax reforms which helped fund the Universal Health Care program, among others.
Dominguez said that some of these measures were a product of the Sulong Pilipinas, an annual consultative conference between the Duterte administration and the various citizen groups, where PCCI is an active partner.
For his part, PCCI President George T. Barcelon lauded the present administration for its numerous accomplishments that benefitted the business sector and created employment for the Filipino people.
"The Duterte administration, with Secretary Dominguez as its economic captain, has built a legacy, projecting stability that led to our nation's good credit standing and taming inflation that helped the general public. We are hopeful that the next administration will be able to follow through on such accomplishments as we recover, rebuild and rebound to attain economic growth comparable to this administration," Barcelon said.
He also stated to provide the same support and collaboration to the incoming government so as to propel the country's economic growth and sustainability.
"PCCI will always support government's steadfast drive to improve our country's performance in fostering investments both from local and abroad, thereby to create more work opportunities and reach our goal of Ambisyon 2040, a prosperous middle nation where poverty is greatly reduced and our countryman can have a decent life without seeking work abroad," he added.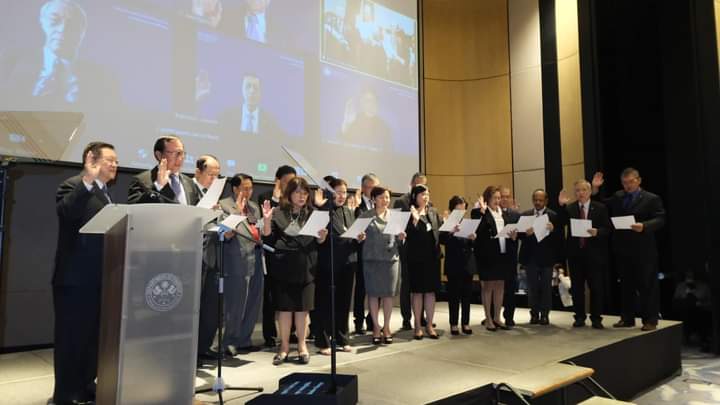 The Finance Chief administered the induction of the PCCI Board headed by its President George T. Barcelon. Physically sworn into office were Dr. William S. Co, Chairman; Engr. Eunina S. Mangio, Vice President/Director for Regional affairs; Sergio R. Ortiz-Luiz, Jr., Director/Treasurer; Ma. Alegria S. Limjoco, Past President/Advisor; Dr. Alberto P. Fenix, Jr., Past President/Advisor; Michael G. Tan, Director, Transport & Logistics Committee; Atty. Benedicta du-Baladad, Director, Taxation & Legislation Committee; Jeffrey T. Ng, Director Urban Housing Development Committee; Samie Lim, Director Tourism & Franchise Committee; Apolinar E. Aure, Director SME Committee; Tess S. Ngan Tian, AVP Director Membership; Gregoria G. Simbulan, Area Vice President for North Luzon; and, Sallie C. Lacson, Area Vice President for South Luzon; Atty. Ivan John E. Uy, Corporate Secretary and Ruben J. Pascual, Secretary-General.
Present virtually were Arch. Felino Palafox, Jr., Vice President/Director for Trade Promotion; Ferdinand A. Ferrer, Vice President/Director for Industry Affairs; Jose T. Pardo-Chairman, Council of Business Leaders; Alfredo M. Yao, Director, Banking Committee; Benjamin Philip Romualdez, Director, Mining & Natural Resources Committee; Edgardo Lacson, ex officio, Capital Formation Committee; Roberto C. Amores, Director Agri/Aqua Committee; Frank A. Carbon, AVP Director Power and Water Committee; and, Art M. Milan, Area Vice President-Mindanao. Witnessing the signing were some members of the PCCI and the DOF team.