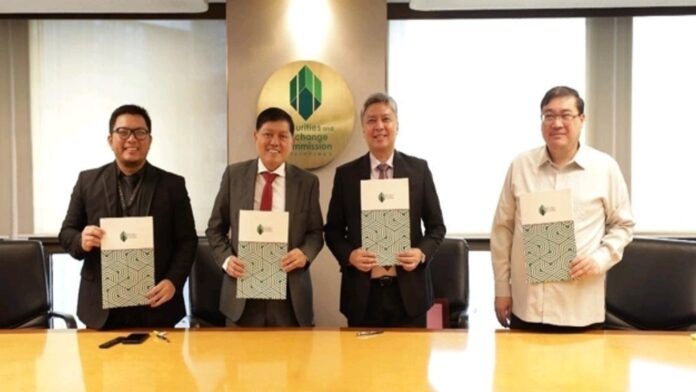 The Securities and Exchange Commission (SEC) has partnered with the University of the Philippines Law Center (UPLC) to improve the formulation of policies that could better address the regulation of financial technology (fintech) in the country.
In a ceremony held on January 19, the SEC and the UPLC signed a Memorandum of Understanding (MOU) for the conduct of joint research projects, capacity building and policy analysis, and resource and information sharing concerning fintech.
Under the partnership, the UPLC will provide aid in the creation of a legal and regulatory framework to initially address issues surrounding cryptocurrencies, before focusing on other fintech products and their corresponding regulation.
For its part, the Commission will provide resources to help support activities that may be conducted by the UPLC regarding cryptocurrencies and fintech activities. It will likewise recognize the university as an official partner in the Commission's initiatives.
With this, the SEC and UPLC aim to further understand the evolving regulatory landscape surrounding fintech, for the formulation of new policies that may be applied in the Philippines.
"At present, we at the SEC have been making use of laws and regulations tailored for traditional securities. Although these principles were laid down in the 1930s, they are considerably effective against cryptocurrency scams that are just run-off-the-mill Ponzi schemes," SEC Chairperson Emilio B. Aquino said in his speech during the signing ceremony.
"However, we strive to serve the Filipino the best way possible – that is why we are motivated to issue rules addressing cryptocurrencies and blockchain technology, specifically for the issuance of digital assets and the regulation of digital asset exchanges."
Meanwhile, UP College of Law Dean Edgardo Carlo L. Vistan II welcomed the collaboration with the Commission, "especially as [key government agencies] navigate new paradigms and tackle complex challenges in these times characterized by accelerated change."
"We commend the SEC for being proactive in addressing these challenges brought about by new technologies that enable more efficient ways of transacting business. Acting, especially, in defense of the investing public without hampering growth."
The SEC has been pursuing several initiatives to address emerging technologies in the financial sector.
In 2021, the Commission established the PhiliFintech Innovation Office in order to understand and better regulate the use of fintech in the Philippines. The new office is intended to serve as the first point of contact for fintech companies applying for registration, or existing fintech companies that have been operating or are introducing new fintech products, in navigating the Commission's regulatory landscape.
The Commission is also drafting rules on digital asset exchanges to ensure that the exchange of such assets meet global standards on investor protection, market integrity, and transparency.