With the pandemic highlighting the importance of holistic health, Sun Life of Canada (Philippines), Inc., and Edukasyon.ph are teaming up to give the youth a boost in their health journey through a fun and interactive program.
Dubbed "Wellness for Life Quest," the program will be housed on the Edukasyon.ph website, www.edukasyon.ph, and will feature six tasks which participants need to complete. These tasks include reading health and wellness articles, watching relevant videos, social sharing, and taking self-help quizzes. Designed to be fun, practical, and engaging, the tasks aim to help participants learn practical ways of keeping their physical, intellectual, emotional, social, and financial health in check.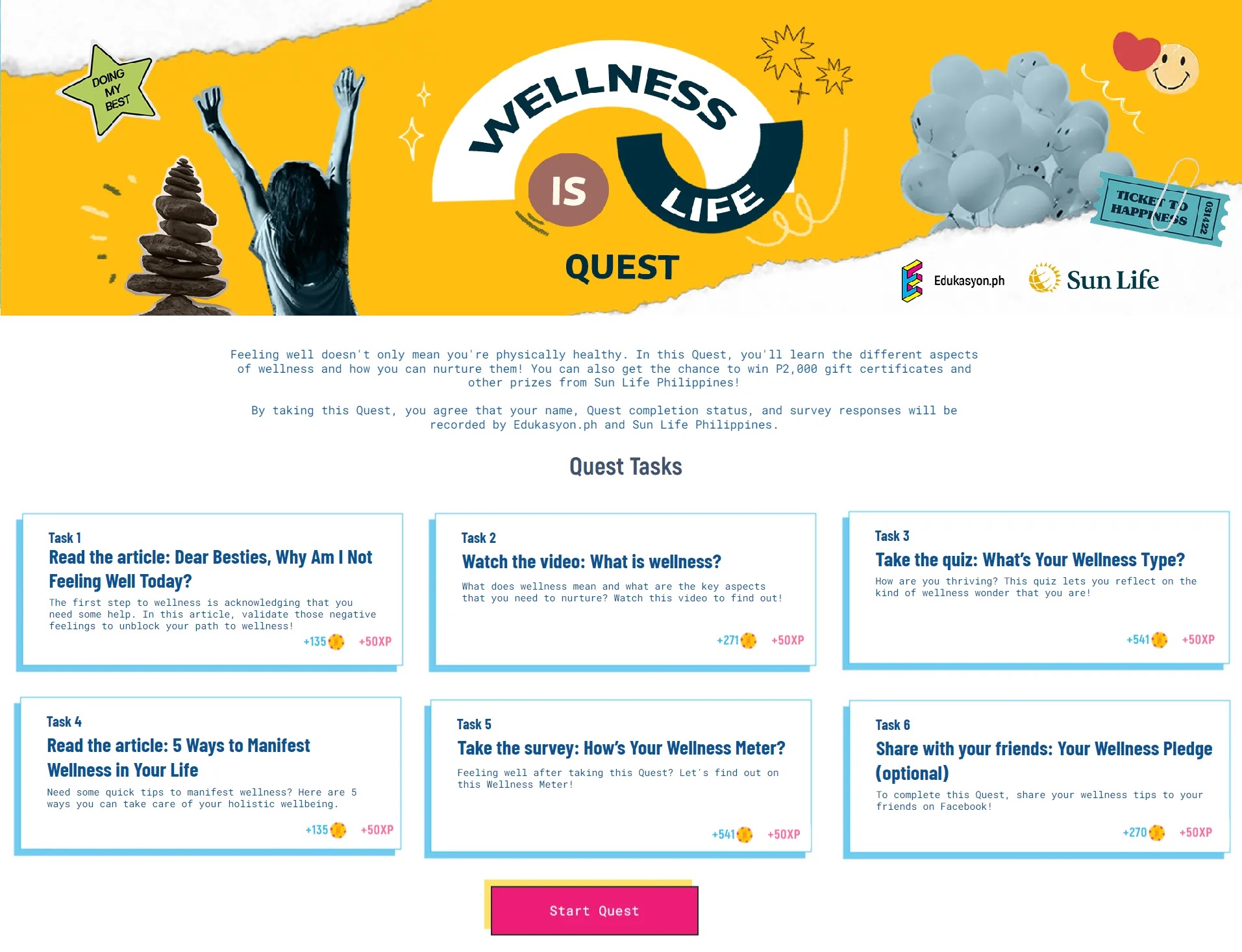 Virtual coins will be awarded for every task completed, and these collected coins may be exchanged for e-vouchers which can be redeemed on partner e-commerce platforms, making the experience rewarding in more ways than one. What's more, all those who will complete the program and sign up to receive more learning materials from Sun Life will qualify for a raffle where they have a chance to win P2,000 Giftaway vouchers.
"Wellness for Life Quest" will be available to Edukasyon.ph's over 250,000 registered members from May 30 to June 30, 2022. Those who have no accounts yet may register for free to access the program.
"It can be easy to take health for granted when you're young, but this is the ideal time to develop good habits that will lead to one's brighter future. This is the message we wish to send Filipino Gen Zs," Sun Life Chief Client Experience and Marketing Officer Carla Gonzalez-Chong said. "As always, we strive to offer an engaging experience, and we are delighted to be collaborating with a group as innovative and creative as Edukasyon.ph for this endeavor."
"At Edukasyon.ph, we champion holistic learning for the Filipino youth. This partnership with Sun Life is an opportunity for us to instill the value of health in all forms among our young audience," Edukasyon.ph Head of Marketing Lucky Calip added. "We share the belief that nurturing one's well-being is an important part of the journey towards future-building."
"Wellness for Life Quest" is part of Sun Life's Partner in Health campaign, which was launched to rally more Filipinos to live healthier lives. Those who wish to know more about the campaign may visit www.sunlife.co/SLPIH.