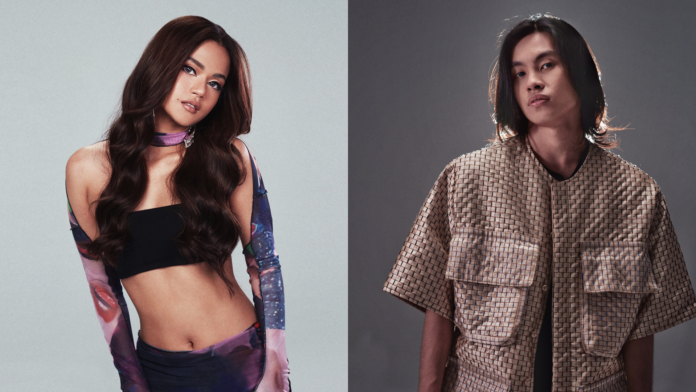 After making headlines with generation-defining songs that celebrate individuality and empowerment, Maris Racal is back with another track that fits cohesively in the country's ever-diversifying P-Pop music landscape.
Featuring up-and-coming singer-songwriter and rapper raven, Maris Racal's latest single "Pumila Ka" asserts the internet-breaking star's knack for capturing the zeitgeist and shaking up outdated conventions in mainstream music.
On "Pumila Ka," the recording artist claps back with an empowering tune that emphasizes how people need to be more considerate of those around them – that it's okay to aim high as long as you won't be hurting anyone in the process.
"I wanted to write a really relatable song and I was thinking of everyday expressions that I could build a song around," Maris explains. "The inspiration for this song is the Filipino expression Pumila Ka usually endearingly delivered among friends when competing for a crush. I asked Rico Blanco for a dance beat, and so he quickly did a dancehall beat and within seconds, I was singing the chorus."
During the recording, Maris thought of adding a rap segment and immediately handpicked her Balcony Entertainment co-artist raven, a rising OPM act behind some of the biggest 'bedroom pop hits' of the last two years, to be part of the project. "I automatically knew that it had to be raven," the multimedia star reveals. "raven was so cool to work with. When I first heard his rap, I was thrilled that it has so many catchy lines and flows."
The effervescent bop was written by Maris and raven, with production by Rico Blanco. Maris also co-wrote the music with RB.
According to raven, working with Maris was a fun and exciting experience. "I used to watch her in PBB, and I'm glad that I got to collaborate with someone as talented as Maris. The verse that I've written for her was based on a true story."
The prolific musician shares that it was his first time appearing in a music video with backup dancers and a more elaborate setup. He also praised Maris Racal and Rico Blanco's work ethic as collaborators, and their kind gesture of making him comfortable during the entire shoot. "At first, I felt intimidated by Maris and sir Rico, because I'm not used to working with artists of their caliber. Good thing they were approachable and very accommodating on the set. I've learned a lot of things from them."
"Pumila Ka" is accompanied by a colorful music video that bursts with the 24-year-old singer-songwriter/actress' chameleonic persona. Helmed by veteran filmmaker Treb Monteras, the visuals offer a choreography-heavy spectacle that brings listeners back to the era of early 2000s pop music, led by artists such as Beyoncé, Britney Spears, and Christina Aguilera. "We wanted to go for a retro futuristic and tribal aesthetic," Maris adds.
Upon the release of the music video, "Pumila Ka" instantly climbed the iTunes Philippines chart at No. 3, and trended on Twitter Philippines at No. 1 for several hours. As of press time, the MV has racked up more than 100,000 views.
"Pumila Ka" marks Maris Racal's first release of 2022, and continues the journey of her previous singles "Ate Sandali" and "Asa Naman." Both tracks earned positive feedback from music critics and fans for steering pop music forward with exciting new ideas.
The song also serves as raven's latest offering since 2021's Lika Na album, a collection of songs that put refreshing spin on '90s indie rock, lo-fi hip-hop, folk, and bedroom pop. The record includes hits and absolute gems such as "Ngayon Lang 'To," "Paraluman," "SUKI (which includes Rico Blanco on production)," and "Kung Tayo, Tayo."
Maris Racal and raven's "Pumila Ka" is out now on all digital music platforms worldwide via Sony Music.